Lake Mburo Game Park
Lake Mburo Game Park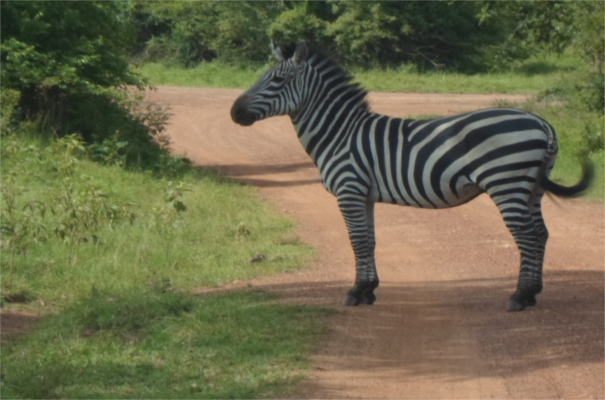 Lake Mburo Game Park - Western Uganda
The connection between Bwindi Impenetrable Forest and Entebbe/Kampala is a whole long full day drive. Somewhat half way is Lake Mburo which has traditionally been seen as the overnight stop to break the journey around 6 hours between Bwindi and Lake Mburo then around 4 hours between Lake Mburo and Kampala/Entebbe.
Many visitors stay just a single night at Lake Mburo but we think a single night is a big mistake unless time simply doesn't permit – Lake Mburo has some fair attractions itself and perfect to wind up or wind down before or after a safari.
Lake Mburo is 370 km square; 1220-1830m ASL; diverse habitats with forest, savanna, acacia woodland, rocky kopjes, seasonal and permanent swamps five lakes in the park (part of a bigger cluster of 14 lakes in total); supports 315 birds and 68 mammals; very good for eland, burchell's zebra, impala etc; has buffalo but no lion or elephants; a very good walking area with good UWA guides.
Activities in Lake Mburo National Park
Walking trails
The area is outstanding for walking, terrain is easy going and in the company of a good guide a very productive option. Areas of particular interest are the Rubanga Forest on the western side of Lake Mburo which is good for forest birds; the Rwonyo viewing platform overlooking a salt-lick.
Wildlife Safaris
The park has a well developed network of roads on the eastern side of the park. Game moves and congregates seasonally. Night drives are permitted.
Boat trips on Lake Mburo
The jetty at Rwonyo Camp is starting point for a 2 or so hour boat trip scouring the Lake Mburo shoreline for birds, hippos and game drawn to the water's edge.
Horse riding
Fantastic routes through the park on horseback are available. The best ride is the 4 to 5 hour ride onto the 4km long grassy Warukiri Range situated in the middle of the park with stunning 360 degree views of the surrounding hills and valleys in the park. At the end of this range is a waterhole, which often attracts buffalos and other animals combined with a magnificent view onto 9 of the 12 lakes surrounding Lake Mburo National Park. Rides also on offer are 1 to 2hr rides outside the park, full day rides with picnic breakfast and bush lunch or a 2 day ride fly-camping in the bush.