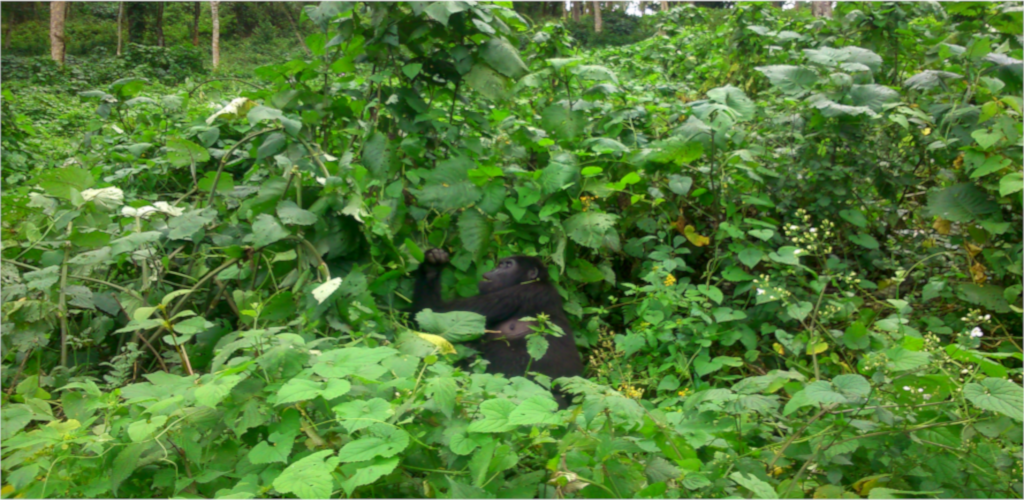 Uganda Safari in twelve days visiting the highlights of Uganda game parks
Uganda Safari in twelve Days Itinerary:
Day 1: Entebbe for your Uganda Safari
You will be met at the airport by our driver guide and transferred from Entebbe international airport to your Hotel in Entebbe, Overnight Lake Victoria Hotel.
Day 2: Murchison Falls National Park (approximately 7 hrs drive)
This morning you will drive to Murchison Falls National Park.  This park lies in north western Uganda, spreading inland from the shores of Lake Albert around the Victoria Nile.  The Falls are named after the President of the Royal Geographical Society.  
Before crossing by Ferry to the northern bank where your accommodation and most of the wildlife is found, you will visit the Top of Falls.  The earth literally trembles at Murchison Falls, one of the world's most powerful flows of natural water.
Overnight Paraa Safari Lodge
Meals included: Lunch and Dinner
Day 3: Wildlife Safari, Boat Cruise
In the cool early morning before the sun rises too high, you will see plenty of game on the Buligi, Albert and Queen's tracks north of the River Nile. The bulk of Murchison falls wildlife is concentrated to the northern bank of the Nile, and the best area for game drive is the circuit of tracks that run west from the ferry jet at Paraa to the Lake Albert Delta
After lunch, enjoy a boat excursion from lodge to the bottom of Murchison Falls. Hippos and crocodiles are abundant, and you will see elephants, buffaloes, waterbucks and birds like; Herons, Cormorants, Ducks, Bee-eaters, Fish Eagles, Kingfishers, and if lucky the rare Shoebill. The trip from Para to the Falls and back takes about three hours.
Overnight Paraa Safari Lodge
Meals Included: Breakfast, lunch and dinner
Day 4: Uganda Safari Wildlife
This morning enjoy another game drive.  In the afternoon you can choose to relax by the swimming pool or if still interested, enjoy another game drive.
Overnight Paraa Safari Lodge
Meals included: Breakfast, lunch and dinner
Day 5: Transfer to Kibale Forest by road (approximately 9 hrs drive)
Have breakfast then depart with a box lunch to Kibale National Park. You will pass via the Albertine escarpment. On a clear day, the view on the top of the Albert rift is fantastic. Have lunch en route and arrive Fort portal – Kibale Forest late in the afternoon. Overnight Primate Lodge
Meals included: Breakfast, lunch and dinner
Day 6: Chimpanzee Tracking in Kibale Forest
After an early breakfast, transfer to Kanyanchu tourist centre for clearance and briefing from the Ranger guides before heading to the forest for your next activity, Chimpanzee tracking. Chimpanzee tracking in Kibale forest is the most popular activity and it starts at 0800 hours and lasts for about 2-3 hours depending on the time you take to encounter chimpanzees. Though you will be searching for these habituated group of chimpanzees, you will find other primates like the Black and white Colobus Monkeys' Chimpanzees are more closely related to humans than to any other living creature, are tremendous fun to watch as they squabble and play in fruiting trees while they hunt for monkeys to prey on.
The incredibly diverse forest is home to over 13 species of primates including red Colobus monkey, the rare L'Hoest, blue monkey, grey Mangabey, pottos, black faced vervet monkeys, baboons and also bush babies. A system of shady forest trails offers much to pleasure botanists and butterfly lovers, while birders are in for a treat with 335 species recorded including the endemic Prirogrine's ground thrush.
Overnight Primate Lodge
Meals included: Breakfast, lunch and dinner  
Day 7: Drive to Queen Elizabeth National Park
This morning, depart for Queen Elizabeth National Park driving past the towering Rwenzori Mountains. You will pass through the crater Valley with beautiful lakes and rich grasslands which are set deep. This is truly the most magnificent scenery in the park. Queen Elizabeth hosts a large variety and volume of wildlife. It boasts one of the highest bio diversity ranging from the open Savannah to Rain forest, dense swamps and beautiful crater lakes to the vastness of Lake Edward.
Almost 100 species that include Hippos, Buffaloes, Lions, Leopard, Spotted Hyena and the elusive giant forest hog, There are over 606 species of birds found here including the martial eagle, Verreaux's eagle owl, black-rumped buttonquail and African skimmer among others.
In the evening there will be a game drive
Overnight Mweya Safari Lodge
Meals included: Breakfast, lunch and dinner
Day 8: Wildlife Safari and boat cruise on Kazinga Channel  
Take a cup of coffee and go for an early game drive in the Kasenyi area of the park where if you are lucky might spot the lions.  Other wildlife to be spotted include, Cape Buffaloes, Giant Forest Hogs, Leopards, Elephants, Defassa Waterbucks, Uganda Kobs, Topi and Bush bucks and many more.
After lunch, enjoy the unique 2-hour boat cruise on the Kazinga Channel and into Lake Edward. This trip passes through possibly the highest concentration of Hippos and many animals may be seen drinking at the water's edge. This launch cruise offers an excellent platform for photography, bird watching and game viewing. The prolific bird life is colorful and stupendous with well over 550 resident species.
Overnight Mweya Safari Lodge
Meals included: Breakfast, lunch and dinner
Day 9: Drive to Bwindi Impenetrable National Park
This morning, depart for Bwindi Impenetrable Forest. The drive if road conditions allow will be through the Ishasha Sector in the southern part of Queen Elizabeth in search of the famed tree-climbing lions before continuing on to Bwindi, home to the endangered mountain gorillas. Bird life and primate life in Bwindi is quite superb, and there is an incredible variety of flora. Bwindi is the Bird watchers haven! It holds 348 species of birds and supports 24 of 26 Albertine Rift Endemics that occur in Uganda; and seven red data book species.
Overnight at Engagi Lodge
Meals included: Breakfast, lunch and dinner
Day 10: Go Gorilla Tracking in Bwindi Forest
Breakfast, then report to the park headquarters for a gorilla trek briefing where you will be briefed on the etiquettes of gorilla tracking.  You will then embark on your memorable journey with the company of ranger guides taking you through the forest, slashing at the undergrowth, parting thick creepers, to track gorillas.
This gorilla trek can take from half an hour to five hours therefore a reasonable degree of fitness is required as well as a sturdy pair of walking shoes. You sit in the forest among the gorillas listening to them grumble at each other and marvel at the sheer size of the dominant male, the silverback. It is amazing to think that there are only 650 or so of these creatures left in the world! If you have the afternoon free, you will take a guided village walk to see how Ugandans live.
Overnight at Engagi Lodge
Meals included: Breakfast, lunch and dinner
Day 11: Drive to Lake Mburo National Park
Today you will drive to Lake Mburo half way between Entebbe and Bwindi.  Lake Mburo lies in covered extensive acacia woodland, Lake Mburo has markedly different fauna to other reserves. Lake Mburo is the best place in the country to see the gigantic eland antelope, as well as zebra, topi, impala, and several acacia-associated birds.
The five lakes within the park attract hippos, crocodiles and a variety of waterbirds, while fringing swamps hide secretive papyrus specialists such as the sitatunga antelope and red, black and yellow papyrus gonalek.  You will enjoy a short game drive on the way to your lodge.
Overnight Mantana Tented camp
Meals included: Breakfast, lunch and dinner
Day 12: Drive to Entebbe for Departure
This morning after your wake up cup of coffee, you will participate in a Safari Walk in the company of a ranger guide, return to the lodge for breakfast, the a game drive on your way out of the park to Entebbe.  En-route there will be a stop at the equator.  Continue to Entebbe to connect with your international flight out.
Meals included: Breakfast and lunch.
End of Safari