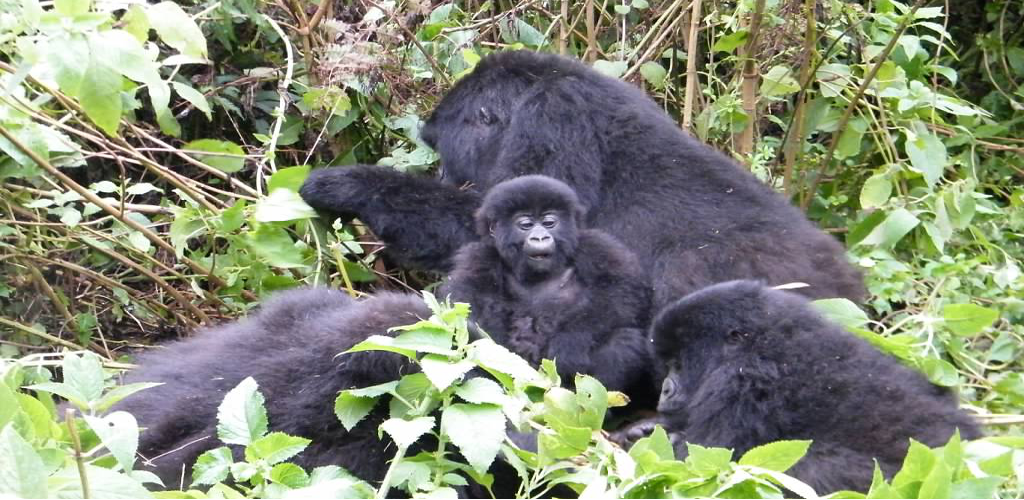 Gorilla Tracking, Chimp Habituation and Golden Monkeys - Kibale Forest, Bwindi and Mgahinga
Gorilla Tracking, Chimp Habituation and Golden Monkeys itinerary:
DAY 01: ARRIVAL - ENTEBBE AIRPORT
Upon arrival at Entebbe International Airport, you will be met by our local representative, who will transfer you to your accommodation in Entebbe.  Overnight The Boma Guest House.
DAY 02: DRIVE TO KIBALE FOREST FOR CHIMP HABITUATION EXPERIENCE
After breakfast you will drive by road to Kibale National Park with one of the loveliest and most varied tracts of tropical forest in Uganda. Forest cover, interspersed with patches of grassland and swamp, dominates the northern and central parts of the park on an elevated plateau. The park is home to a total of 70 mammal species, most famously 13 species of primate including the chimpanzee. It also contains over 375 species of birds. Kibale adjoins Queen Elizabeth National Park to the south to create a 180km-long corridor for wildlife between Ishasha, the remote southern sector of Queen Elizabeth National Park, and Sebitoli in the north of Kibale National Park.
Overnight Klibale Forest Camp
Meal plan: Breakfast, lunch and dinner
DAY 03: CHIMPANZEE HABITUATION EXPERIENCE
A typical day for a chimpanzee habituation experience starts early. You need to be up early, take an early breakfast. You are advised to take a picnic lunch with you.  Drive to Kanyanchu chimp trekking starting point to meet your guides and then you chimpanzee adventure begins. Your guide will lead you to the chimpanzee nests from the night before.
The chimpanzees arise at the break dawn as you approach their nests. And your day of observing the chimpanzees begins. Chimpanzee habituation is aimed at getting the chimpanzees used to human presence and is a long process that can take up to two years before a group of chimpanzees can safely be considered habituated. As a visitor you are part of this experience for the day.
 
It's not only chimpanzees you will see on this habituation experience, you will see a host of other things in Kibale forest for example; you will see elephants, buffaloes, bush pigs, various bird species-the forest has 350 different bird species, and about 12 other kinds of primates. The beauty and richness of the forest is seen in the exotic plants, trees, and butterflies. It is simply amazing. And you need to keep your eyes wide open so you do not miss anything.
 
Your eventful day  finally comes to a close when the chimpanzees climb into their new nests for the night and you head back to your lodge with good memories, and the satisfaction of a day well spent.
Overnight Kibale Forest Camp
Meal plan: Brea
DAY 04: QUEEN ELIZABETH NATIONAL PARK
After an early morning breakfast, you will say goodbye to Kibale and return to Fort Portal. This rural Ugandan town is locally famous for its weaving and basketry, and you stop briefly to examine some of this local art. Leaving Fort Portal town, you turn south and early this afternoon enter Queen Elizabeth National Park, which is dominated on its northern border by the snow-capped 16,000-foot Rwenzori Mountains-the famed "Mountains of the Moon".  En-route there will be a stop at the equator.
This 767-square-mile conservation area is bordered on the North East by Lake George and on the South West by Lake Edward; its western border adjoins the Zaire Parc Du Virunga. You will expect to see teeming herds of impala-like Uganda Kob, as well as topi, elephant and lion, giant forest hog, Cape buffalo. There are also several soda lakes filling ancient volcanic calderas where flamingos reside seasonally.  
Overnight Queen Elizabeth Bush Camp Tent
Meal plan: Breakfast, lunch and dinner
 
DAY 05: GAME DRIVES / LAUNCH CRUISE ON KAZINGA CHANNEL
Wake up early and go for a game drive in the Kasenyi area, return to the lodge for lunch.
In  the afternoon there will be a launch trip on the Kazinga Channel. This fresh water system, joining Lake Edward and Lake George, boasts of the highest concentration of Nile Hippos in the world.  In addition to these semi-aquatic mammals, the launch affords unique opportunities to view other mammals, and birds as they come to the waters edge to drink or bathe.   Expect to see Waterbuck, Bushbuck, Cape Buffalo, Hartebeest, Giant Forest Hog, Warthog, Elephant, and potentially Leopard and Lion. The scenic beauty of the park is a perfect backdrop for the wildlife drama that takes place before you.
Overnight Queen Elizabeth Bush Camp Tent
Meal plan: Breakfast, lunch and dinner
 
DAY 06: QUEEN ELIZABETH / BWINDI IMPENTRABLE FOREST
early morning breakfast, drive to Kyambura gorge for chimpanzee tracking.  After the chimp trek you will then drive through Ishasha area of the park hoping to see the famous tree climbing lions (weather permitting) and then through the scenic area known as the "Switzerland" of East Africa, to the Bwindi Impenetrable National Park for your gorilla trek.
Overnight Mutanda Lake Resort
Meal plan: Breakfast, lunch and dinner
 
DAY 07: GORILLA TREKKING DAY (Can take anything between 1 to 8 hours)
This day will be for gorilla tracking. You will rise early and after breakfast, be driven to a point in the park where your hike will begin. Well- trained guides lead you to a point where the gorillas were encountered the day before. The hike duration is determined by the gorillas whose continuous search for food requires a nomadic lifestyle. The gorilla trek can take from 1-8 hours at altitudes in excess of 7,500ft and over rough and steep terrain.
Although the hike is physically demanding, the beauty of the forest and its inhabitants make your experience extremely interesting. Upon encountering the gorillas, your fatigue is quickly forgotten. The gorillas are not tame, but they have been scientifically habituated to accept the presence of quiet and non-threatening observers. Each strictly regulated 60- minutes visit passes all too quickly, and you must depart, leaving the gorillas to their fragile existence. You will take a packed lunch and water for your meal and picnic in the forest. Porters are available at the park headquarters to help you carry.
Later drive to Kisoro to overnight at Traveler's Rest Hotel.
DAY 08: GOLDEN MONKEY TREKKING / LAKE BUNYONYI
Eary breakfast ready for your last trekking event as you head off to Mt Mgahinga for your Golden Monkeys trek. You will return to the lodge for lunch, collect your bags and drive to Lake Bunyonyi.
Overnight Bird's Nest
Meal plan: Breakfast, lunch and dinner
DAY 09: DRIVE TO ENTEBBE FOR DEPARTURE
After breakfast you will drive to Entebbe with a stop at Mbarara for lunch and the Equator for photo options and may be visit the craft shops.  Your arrival in Entebbe will late in the afternoon.  Transfer to the airport to connect with your international flight out.
Meal plan: Breakfast and lunch
End of services