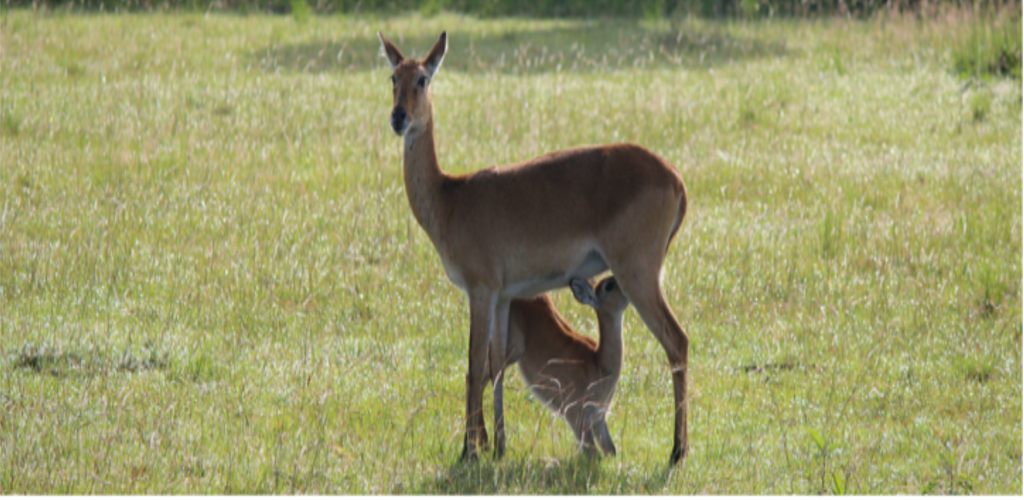 Gorilla Tour, chimpanzee Tracking and Lake Mburo Safari
Gorilla Tour, chimpanzee Tracking and Lake Mburo itinerary:
Day 1: Tranfer to Kibale Forest
We will pick you up from your accommodation in Entebbe or Kampala and transfer you by road to Kibale National park, the drive will take around 6-7hours. You will have arrive at your accommodation for a late lunch. It's a scenic drive that will take you through woodlands, tea plantation. Kibale National park is one of the best tourist destination in Africa particularly Uganda. The Park is located in south Uganda protecting moist ever green rain forest. Kibale forest is well known for its highest concentration of primates in Africa
Overnight accommodation options:
Luxury: Ndali Lodge or Kyaninga lodge
Mid-range: Chimpanzee Forest guesthousee/ Kibale Forest Camp
Budget: Nyinabulitwa Camp / Rwenzori View Guest House
Meals included: Lunch and dinner included
Day 2: Morning Chimpanzee trekking, in the afternoon drive to Queen Elizabeth NP
Short drive to the park head quarters for the Chimpanzee trekking and forest walk - Kibale forest has a total of 13 different species of primates.
In the afternoon after lunch, drive to Queen Elizabeth National Park. You will be driving passed the towering Rwenzori Mountains, game drive on your way to your accommodation.  Later you will go for an evening game drive.  Queen Elizabeth National park is the most popular tourist destination in Uganda and is one of the oldest national parks in Uganda.
Overnight accommodation options:
Luxury: Mweya Lodge/Kasenyi Safari Camp
Mid- range: Bush Lodge/Twin Lakes Safari Lodge
Basic: Marafiki Safari lodge cabins / Buffalo Camp
Meal Plan: Breakfast, Lunch and Dinner  
Day 3: Bwindi Impenetrable Forest
This morning, you'll enjoy a launch trip on the Kazinga Channel, which provides a unique and unequalled wildlife experience. Expect to be eye to eye with yawning hippos and surrounded by vast numbers of migrant and resident water birds. Many buffalos rest in the water while elephants enjoy themselves drinking along the banks. Afterwards, your drive to Bwindi Forest will be via Ishasha in the hopes of seeing tree-climbing lion and more of Uganda's stunning wildlife. Bwindi is an exceptionally rich and varied ecosystem. It is one of the richest forests in East Africa for birds (350 species), butterflies (310 species), and trees (324 species). Bwindi also has at least 120 species of mammals including ten species of primates.
Accommodation options:
Luxury: Mahogany Springs / Engagi Lodge
Mid range: Silverback Lodge
Budget: Buhoma Community
Meal plan: Breakfast and lunch and dinner.
Day 4: Gorilla Tracking
Early breakfast before going to the park headquarters for a briefing from the ranger guides on the gorilla tracking do's and donts. You will be accompanied on your gorilla trekking by experienced guides through the thick forest, through the gorilla trek paths in the thick Bwindi Impenetrable rain forests searching for the giant mountain Gorillas.  
Once the mountain gorillas are found you will have 1 hour of regulated time to view these beautiful primates plus taking photographs. Take a picnic lunch and at least 2 litres of water with you.  After the gorilla trek, return to the lodge to reminensce on Gorilla Trekking experience. Optional activity if the gorilla trek ends early is the communitiy walk.
Accommodation options:
Luxury: Mahogany Springs / Engagi Lodge
Mid range: Silverback Lodge
Budget: Buhoma Community
Meal plan: Breakfast and lunch and dinner.
Day 5: Lake Mburo Park
Following breakfast proceed to Lake Mburo national Park, home to the impalas which are small antelopes mainly concentrated around Lake Mburo of all the national Parks in Uganda. Actually the capital city of Uganda – Kampala was named after this stunning small animal. Along the way you will be able to see the spectacular Kigezi highlands plus some other uncultivated scenery and the long-horned Ankole cow.
On arrival in the park, you will have a game drive to see some other wildlife in Uganda besides the gorillas you saw in Bwindi and among these will be: zebras, warthogs, buffaloes, klipspringers, elands, oribi as well as waterbucks.
Overnight accommodation options:
Luxury: Mihingo Lodge / Mantana Tented Camp
Medium: Rwakobo Rock lodge/Arcadia Cottages
Basic: Eagles Nest camp.
Meal Plan: Breakfast, Lunch and Dinner
Day 6: Departure
View game as you leave the camp for Kampala, pass through the town of Masaka near the shores of Lake Victoria, then continue through huge papyrus swamps, fragmented rainforest, with a stop at the equator and Mpigi Royal drum makers and witness how drums have been made in Uganda for centuries. Long before the coming of the Europeans, the Buganda people had a highly structured society and drums were used extensively for long distance and rapid communications. Continue on the Entebbe International airport to connect with your international flight out
Meals included: breakfast, lunch
End of services