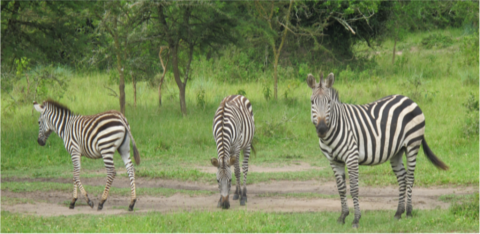 Discover Uganda - About Uganda
Uganda is a truly "authentic" safari destination - definitely less sophisticated than Tanzania or Kenya in terms of infrastructure and not in the same "big game" league, but equally untouched and as genuine as Africa gets.
Uganda's gorillas, chimps, birds and the wider range of special-interest attractions (from butterflies to orchids) makes it a perfect match for first timers and seasoned African visitors alike.
More about Uganda
Its well-publicised, strife-torn history lies deep in the past and the only news that is coming from Uganda these days is good reports about the economy and the conservation of its wilderness areas.
Imagine rainforests, lakes, volcanic mountains and royal burial tombs - but the biggest attraction is of course the several hundred highly endangered mountain gorillas in one of the few habitats left to them on earth. Chimpanzees make up one of the 120 mammals and over 1,000 species of birds have been recorded in this fertile country.
Uganda has very fertile soils, particularly around Lake Victoria. Coffee is the main export, with tobacco and tea the next highest-earning agricultural exports. Cocoa beans, palm oil and sugar cane are also key cash crops for the country's farmers.
Agriculture still employs around two-fifths of Uganda's workforce. But while many older Ugandans continue to farm or earn money from growing cash crops such as coffee, young Ugandans often aspire to a more modern way of living.
Most Ugandans still lead a rural lifestyle, with 87% of the population living in the countryside.
Location of Uganda
The country lies mostly on a plateau with three major volcanic mountain ranges: the Rwenzori, Mount Elgon and Mgahinga. These ranges are interspersed by several lakes and the great Nile River, which flows towards the Mediterranean from Lake Victoria.
Land-locked Equatorial Africa - bordered by Rwanda and Tanzania in the South; Kenya to the East; Sudan to the North and DRC to the West
Uganda has a tropical climate that is tempered somewhat by its altitude. Year round temperatures average at 20-30°C, although at night temperatures can be relatively low at 12°C. There are two main rainy seasons, between March and May and also in October to November. Although there are two distinct rainy seasons, rain does continue to fall intermittently throughout the year.
A few facts about Uganda:
Area: 235796km² - similar to Great Britain or the state of Oregon
Capital: Kampala (population 1.2 million in 2002)
Time zone: GMT +3hrs
International dial code: +256
Currency: Uganda shilling
Electricity: 240 volts at 50Hz
Language: English is the official language with 33 indigenous dialects; Luganda being the most predominant
Population: 34.6 million (2014 population census)
Altitude: 85% of the country lies between 900m and 1500m above sea level. The lowest region is Lake Albert basin (612m) and the Albert Nile. The highest point is Mount Stanley (Rwenzori range) at 5,110m
Land use: Arable land 25%, agriculture 9%, pasture 9%, forest & woodland 28%, open water 18%, marsh 4%, other 7%
Major exports: coffee (55%) fish (7.5%) tea (5%) tobacco (4%)
Other crops: bananas, maize, millet, sorghum, cotton, rice, cassava, groundnuts, potatoes
Mineral resources: copper, cobalt, limestone, salt, alluvial gold. In July 2006 significant oil reserves were found beneath Lake Albert at Kaiso-Tonya.
What to see on Safari in Uganda
The relatively high proportion of closed canopy forest and the lush green vegetation distinguishes Uganda from any other safari destination. The country harbors a wide variety of vertebrate and other species absent elsewhere in East and Southern Africa. Uganda is not a safari destination to compare against Kenya or Tanzania when it comes to conventional game viewing but good sightings of lion, elephant, and giant forest hog can be experienced nevertheless.
The staggering recovery of wildlife in the savanna reserves and accessibility to tourist highlights has improved the attraction for tourists beyond recognition since Museveni took charge of the government in 1986.
When to visit Uganda
Uganda lies on the equator and consequently has a warm climate year round; season temperature fluctuations are insignificant. The main factor to consider is the rainfall pattern. There are two wet seasons - April/May and October to December when hiking, camping and road access to certain areas could be difficult. This is of particular consideration for those planning to hike the Rwenzoris.  Gorilla tracking is certainly done throughout the year.
Temperatures are between 20°C and 30°C maximum and between 12°C to 18°C on the lower end. Highest temperatures are experienced near Lake Albert and the lowest on the glacial peaks of the Rwenzori.
Our advice is to travel when most convenient to you and the rain (which is often for short periods) is part of the experience. You may avoid tracking during the "official" rainy season only to find it pours at another time of the year!
For this reason most of the lodges/camps remain open throughout the year unlike those in more traditional savanna areas.
Why choose Uganda
For its Mountain Gorillas:
Only something like 750 mountain gorillas survive in the world today, all on the borders of Uganda, Rwanda and Congo which makes them one of our most unique primates especially when compared to the six billion human beings on earth! Approximately 320 mountain gorillas reside permanently in Uganda.
Seeing gorillas in the wild is an awe-inspiring experience and leaves a significant impression on viewers.
Gorilla tracking permits are in great demand and cost US$600.00 per person at present. The high cost is put towards the numerous trackers, guards, soldiers and maintenance staff required to safeguard these precious animals. Permits should be booked well in advance and the schedule of most Ugandan safaris is dictated to some extent by the availability of permits.
For Uganda Chimpanzee tracking
Man's closest relative lives in large, loosely bonded communities based around a core of related males topped by an alpha male. Troops have well defined territories fiercely defended by regular boundary patrols.
Chimps live in most of the forests in Western Uganda and have been habituated for tourists in Kibale Forest, the Kyambura Gorge in Queen Elizabeth National Park, Semliki, Budongo and Kanyiyo Pabidi forests near Murchison Falls National Park
Chimp tracking usually starts at 08.00 and ends around 11.00 and ithe afternoon it starts at 14:00 and ends around 17:00 costing at the most US$150.00 per day in Kibale and US$50.00 per day in Kyambura (Chambura) Gorge. Chances of sightings are around 90% in Kibale and Kyambura Gorge sightings are usually pretty good although recently less frequent sightings have been reported. Sightings in Semliki are improving as the chimps slowly become more habituated with the research project being conducted by the University of Virginia.
For Uganda Game viewing
Official checklists show 342 species recorded in Uganda of which 132 can be classified as large mammals. Queen Elizabeth and Murchison Falls are the two main spots to visit for big game viewing while the Lake Mburo areas offers a wide variety of antelope, Zebras, as well as waterbirds and is a convenient stop over between Bwindi and Kampala. Kidepo Valley hosts dry country antelopes, predators such as leopard and lion as well as buffalo, elephant, zebra amongst others. Situated in the North East this area is generally not much visited and expensive to get to.
For Uganda Birding Safaris
Uganda is arguably the most attractive country in Africa to birders because of the relatively easy access to bird-rich habitats (which can be difficult to reach elsewhere). Due to its transitional point between East African savanna and West African rain forest the avian diversity is remarkable with 1,008 species recorded.
How to get to Uganda
Uganda's international airport is located at Entebbe, 40km from Kampala the capital city of Uganda.  Several well known airlines such as Kenya Airways, KLM Royal Dutch airlines, Turkish Airlines, Emirates, Qatar Airways, Ethiopian Airlines, SN Brussels, and South African Airways amongst others fly regular schedules in and out of Entebbe airport.
The highest percentage of visitors enters the country by road from Kenya or Tanzania traveling in local buses or in private vehicles or with a private mobile safari outfit. We recommend flying direct to Entebbe and then traveling with a 4x4 vehicle with a reputable driver/guide on a pre-booked itinerary.
Main roads are generally good but travel is much slower than on European or American roads. Secondary roads are of variable quality and slow or bumpy especially during rainy season. Recently the main arterial roads have seen substantial improvements.
Most safaris require long car journeys often taking most of the day. Four-wheel drive vehicles are required for certain routes especially in the rainy season. There is now the alternative scheduled internal flights to the major national parks but light aircrafts can also be chartered to the main airfields
All private charters or scheduled flights to the various Uganda game parks are in small light aircraft with a maximum baggage allowance of 15kgs per person in soft, squashable bags.