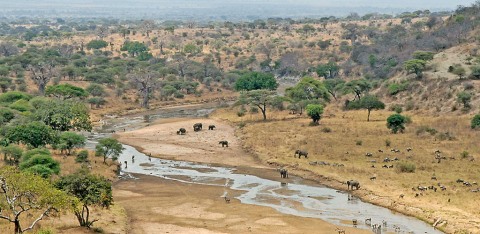 Visit Tanzania home to Africa's wildlife safaris
Visit Tanzania Overview:
Home to Africa's most dramatic and famous features.
Fantastic wildlife, stunning scenery and idyllic beaches Tanzania is virtually unrivalled in terms of wildlife population and diversity. From the biggest African plains, the Serengeti, to the highest African mountain, Mt Kilimanjaro, to the deepest African Lake Tanganyika.
Tanzania has remarkable chimpanzee tracking in Mahale, and nearby Katavi is a little-visited paradise of animals and scenery.  Pemba offers classic tropical beaches to those wanting to get away from the crowds, whilst the Selous Game Reserve never disappoints those looking for lion and elephant!
About Tanzania
There aren't many places in the world that you'll find all of rain-forest, savannah, bush, scrubland, glaciers, beaches, lakes, rifts, volcanoes within a single political border. Throw in the world's biggest game reserve, 20% of Africa's large mammal population, nearly 1,200 bird species, an animal diversity to match, the world's greatest diversity of freshwater fish, over 126 ethnic groups and the incredible Serengeti Migration, and you'll start to form a vague impression of what Tanzania has to offer her guests.
Recent years have seen a decent tourist infrastructure flourish and the country is now more accessible than ever; a huge advantage to both the fresh African traveller and veteran wanderer as it allows undiluted access to some of Africa's best sights and experiences.
Tanzania History
Originally a German colony, what is now recognised as the "United Republic of Tanzania" was handed over to British rule in 1919 following a League of Nations agreement post-WWI. In 1961, Tanganyika (which forms the vast majority of Tanzania's landmass) declared independence, and merged with the neighbouring island territory of Zanzibar in 1964 to create the modern day Tanzania.
North-eastern Tanzania sports Africa's highest peak, snow-peaked Mount Kilimanjaro, amongst several other active volcanoes - photographs of which are some of the most recognisable views of the African continent. Heading west, the country flattens out to the sprawling Serengeti National Park - a key location in the annual migration of millions of wildebeest and zebra.  Lake Victoria, Africa's largest lake and traditionally thought of as the source of the Nile, is nestled in the north-western corner and gives way to a blend of arable land and national parks as one heads southward.
Along the way, Lake Tanganyika (the world's second oldest and deepest lake containing an unbelievable 1/6th of the world's fresh water) forms the western border with the Democratic Republic of Congo, whilst the eastern border greets the warm waters of the Indian Ocean. Throughout this collection of geographical features are dotted 14 national parks and numerous conservation areas, covering an enormous 25% of the country.
Despite the huge amount of land dedicated to wildlife preservation, some 60% of Tanzania's income comes from agriculture (coffee, cotton, tobacco, cashew nuts) and natural exports (diamonds, Tanzanite, iron and especially gold).
 
Climatically, Tanzania is considered on the whole to be "pleasantly tropical", although there are significant changes to this generalisation depending on regional factors (mostly altitude). Coastal areas are the hottest and most humid, with typically 30°C daytime temperatures, and whilst the internal, open regions reach similar temperatures, the less humid environments making it far more comfortable. The montane parts of the country are typically cooler, and Mt Meru and Kilimanjaro reach sub-zero, alpine conditions due to their extreme altitudes. Due to the proximity with the equator, there is relatively little temperature fluctuation or seasonal change, although June-August are coolest and the post-Christmas the warmest.
Like Kenya, Tanzania has two "rainy seasons", a short one ("mvuli") during November and December, and a longer one ("masika") over the months of late February to May. There is very little rainfall outside these seasons.
Most safaris into Tanzania are based on either the very popular "northern circuit" based out of Arusha or the wilder "southern circuit" from Dar es Salaam, and typically a visit to the beaches of Zanzibar and Southern Tanzania follows either  - the spectacular Bush and Beach Combination Safari. November–March are the main game viewing months and July–September become popular as the migratory herds move towards the Mara River through the Serengeti.
The popular "northern circuit" includes the Serengeti, Ngorongoro Crater, Tarangire and Lake Manyara. These areas can be extremely busy at certain times of the year, particularly with "minibus tours". We only use private driver or guided 4WD vehicles to escape the crowds, thereby allowing for a high degree of independence. Where possible we use mobile or semi-mobile private tented camps.
The "southern circuit" includes the Selous, Ruaha, Katavi and Mahale – all slightly less accessible and further off the beaten track than elsewhere in Tanzania; definitely a lot more enticing with small camps hosted by experienced guides in remote and wild locations.
Tanzania's favoured spots are the vast plains of the Serengeti; Ngorongoro Crater; Lake Manyara and Tarangire Park in the north; Mahale on the edge of Lake Tanganyika is famous for its chimpanzee sightings, Katavi and Ruaha for their vast open wildernesses and the picturesque and game rich Selous Game reserve. Combining these locations during a single visit has recently become a lot more achievable with Tanzania's developing transport network, although having a degree of familiarity with the limited flight schedules and logistical shortcuts definitely makes building an itinerary easier!
How to get to Tanzania
Kenya Airways
offers a service from
Nairobi
–
Kilimanjaro
and several other carriers now offer routes between the two hubs of
Dar es Salaam
and
Arusha
to various safari destinations and beach resorts.
For those who prefer to travel by road to see more of the countryside the main safari circuit of Northern Tanzania can be visited by tour bus or landcruisers.
Be warned whilst there are a few modern tarmac roads around Arusha, Kilimanjaro and Dar, in the rest of the country there are few roads and most driving is on unmade gravel roads or off road.
For the budget traveller buses and local trains are available but the service is erratic and unreliable and not something we can recommend.