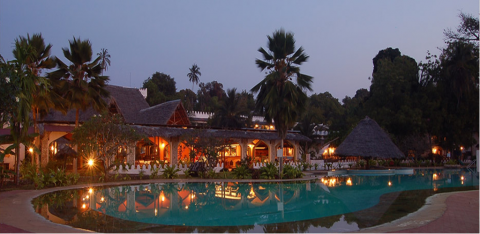 Visit Zanzibar Beach
About Zanzibar
Just like
Tanzania
, Zanzibar is three hours in the advance of Greenwich Mean Time (GMT+3). It doesn't operate daylight saving time, and consequently there's no time difference between Zanzibar's summer and winter months.
Currency in Zanzibar
Zanzibar's currency is the Tanzanian shilling (TZS). You can go to www.oanda.com for the most recent exchange rates. Most lodges in Zanzibar charge in USdollars; very few will take travellers' cheques, although most accept credit cards (they may charge an additional fee to do so). Buying Tanzanian shillings in Europe or America can be hard; most travellers will buy local currency on arrival in Tanzania or Zanzibar.
Zanzibar's International Dialling Code
The International Dialling Code for Tanzania and Zanzibar is +255, followed by the destination's phone number. Calling from Zanzibar, you dial 00 plus the relevant country code (0044 for the Great Britain, 001 for the States).
Food in Zanzibar
The food served in Zanzibar's beach lodges in generally very good, focusing on what's locally available. There are some fine restaurants in Stone Town, mainly serving local dishes, seafood and curries, seasoned with the island's exotic spices; outside of Stone Town, the choices are limited. Drinks include Tanzanian beers (Tusker, Kilimanjaro and Safari), as well as imported beer and wine from South Africa.
Health in Zanzibar
Zanzibar is a tropical island and vaccines are sensible (typhoid, polio, tetanus and yellow fever). Malaria is common, so you should take anti-malarial measures. Always check the latest recommendations with your travel clinic or doctor.
What language is spoken in Zanzibar
English and KiSwahili are the official languages, spoken by most Zanzibari; beside this, there are many ethnic groups, who speak localised dialects and languages. Some basic KiSwahili will help you to enjoy your trip even more – and even poor attempts to speak it will be hugely appreciated by most islanders!
Can Children go to Zanzibar
As a beach destination, Zanzibar is generally very good for relaxed family holidays. Please see our ideas for family holidays in Zanzibar, or call our expert team for detailed information.
About Zanzibar Visa
Currently (Aug 2009), travellers with British or US passports require visas for Tanzania – and Zanzibar is simply an area of Tanzania; there are now no separate requirements for the island.
Visas are best obtained in advance from the Tanzanian High Commission/Embassy, in your country. Always check the most recent regulations with your nearest Tanzania High Commission or Embassy before travelling.
What kind of weather and climate in Zanzibar
Zanzibar's weather tends to be more humid than the weather on the mainland – click on the following link for a detailed description of the weather and climate in Zanzibar.Tourist attractions in Zanzibar
The oldest building in Zanzibar City is the 17th century Stone Fort, built as a defence against the Portuguese. It can be found in Stone Town opposite the lush Forodhani Gardens. Traders and merchants hawk their wares in the vast courtyard and regular festivals are held in its small amphitheatre, and on your trip to Zanzibar this will be a real entertainment hub for you.
One of Stone Town's most prominent structures is the Palace Museum, otherwise known as the Beit-el-Sahel or Sultan's Palace. It's now a museum on the waterfront but was originally built for the Sultan and his immediate family in the 19th century.
 
Stone Town in Zanzibar City is itself a stunning cornucopia of whitewashed buildings and winding alleyways at the heart of the city. It's East Africa's oldest still-functioning settlement and home to a myriad of traditional markets and historic sites. It's buzzing 24/7 and is packed with restaurants and entertainment venues. Singer Freddie Mercury (real surname Bulsara) was born here in 1946, and the restaurant named after him pays homage to Queen's colourful front man.
Leisure activities in Zanzibar
The beaches that ring the Zanzibar islands on all sides are amongst the finest in the world, and during your trip to Zanzibar you'll inevitably find yourself stretched out on at least one of them, soaking up the sun. The beaches in the east of the archipelago are the best, and the acknowledged top five are Kendwa, Nungwi, Pongwe, Paje and Matamwe.
 
Take a boat trip out from Zanzibar City to Prison Island, about 30 minutes away. Slaves were originally detained here before it became a quarantine camp, so its history is pretty grim. However, nowadays the island is given over to giant tortoises and has been turned into a fabulous and internationally important nature reserve.
The most famous, and certainly the most lively and colourful, market in Zanzibar is Darajani Market in Stone Town. This is where you get a real taste for local life, obtain great photo opportunities and get a chance to practice your haggling skills.
Zanzibar is the perfect place for snorkelling and diving, and there are numerous spots around the islands for doing this. Pemba Island is especially popular, and you should board a traditional dhow boat to get there and enjoy the journey for its own sake.
image of sorpotel a dish of portuguese origin in tanzania
Food in Zanzibar
Zanzibar's long multicultural and multiethnic history is reflected in its fabulous cuisine. The mix includes strong elements of Arab, Bantu, Portuguese, British, Chinese and Indian traditions, such as sorpotel which is boiled meat cooked in a Portuguese-Goan style.
The most typical Zanzibari dessert is Spice Cake, made from pastry with clove, cinnamon, chocolate and nutmeg mixed in. These are a true taste of Zanzibar's history as the heart of the original Spice Islands.
 
Shopping in Zanzibar
The best places to pick up all sorts of fabulous items when you're travelling to Zanzibar for shopping are located in Stone Town. Many of the shops here sell items made in India, Africa and the Far East. Spices, essential oils and jewellery can all be found here too, with gold shops clustered next to the Anglican Cathedral.
Cathedral Street is the best place for antiques, including the old Chinese bowls that used to be used for ballast in the dhows.
Flights to Zanzibar with:
Kenya Airways
Turkish airlines
Ethiopian Airlines
KLM