Samburu National Reserve
Samburu National Reserve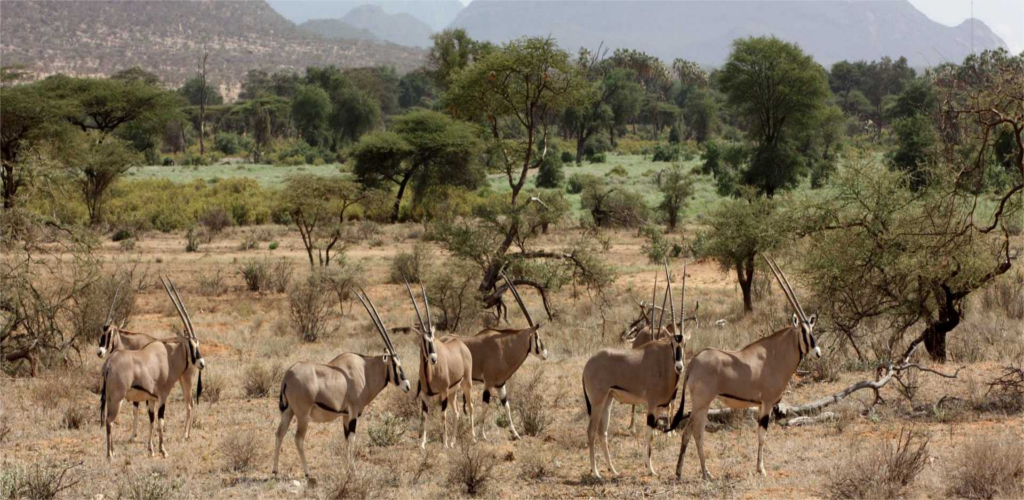 Samburu National Reserve Kenya
Samburu national reserve is situated in the Northern Province of Kenya and it is rugged and a semi- desert. The reserve is with in ecological zone V which is classified as arid and semi arid with moisture index of 47 to 57, which indicates that vapor- transpiration is grater than available moisture, it should be noted however that the days are extremely hot and nights extremely cold. The annual mean temperatures rage between 18C and 30C, while the mean annual rainfall is 345 mm with high peak in November and April. The dry season starts in late may, and goes up to early October when a large concentration of wild reserve due to availability of lush vegetation along the Ewaso Nyiro river, the main source of water to the reserve and the nearby communities.
 
The reserve is rich in wildlife with an abundance of rare northern specialist species such as the Gravy's zebra, Somalia, ostrich, reticulated giraffe, gerenuk and the beisa oryx, also referred to as the Samburu big five. The reserve is also popular with a minimum of 900 elephants. Large predators such as the lion, leopard, and cheetah are an important attraction. Kanmunyak the miracle lioness that adopted the baby oryx is a resident in the reserve. Also wild dogs sightings are also a common attraction to this unique protected area.
Birdlife is abundant with over 450 species recorded. Birds of the arid northern bush country are augmented by a number of Riverine forest species. The lesser kestrel and the taita falcon are species of global conservation concern and they both utilize the reserve. Five species categorized as vulnerable have been recorded in the reserve. These are the African darter, great agret, white headed vulture, martial eagle and the yellow. Billed ox-pecker. The critically endangered pancake tortoise is also found in the reserve.
 
Getting to Samburu National Reserve
Samburu National Park can be accessed by air and road transport, hence fro Nairobi through Isiolo on all weather bitumen while Isiolo Archers post is graveled. The road section distance from Isiolo to Archer's gate is 34.3km. Samburu also has got an air strip that is the Oryx Samburu Airstrip. It should be noted however that Samburu game reserve covers an area of 165 sq km. and the distance from Nairobi 345 km to Archer's gate which is the main entrance to Samburu national reserve and the park has got no bad time to visit thus you can visi5t at any time of the year.
Major activities in Samburu National Reserve
There are various activities that visitors can engage in while residing at the reserve. These activities include, wildlife safaris, bird watching, sundowners, bush breakfast, nature walks, river rafting this depends on the water level and the Samburu cultural experience.
Accommodation in Samburu National Reserve
Samburu national reserve has got a number of visitor's facilities including. Lodges: Samburu game lodge, Samburu Larsen's camp, Samburu Sopa, Samburu interprids, Elephant bedroom, Elephant Watch Safaris, and also Mimba Mingi tented lodge.
There also permanent campsites, game trackers, lion King Safaris, there also special campsites, that is to say, Doom Palm campsite, Von derdecken the Hornbill campsite, Grevy campsite, Impala campsite.