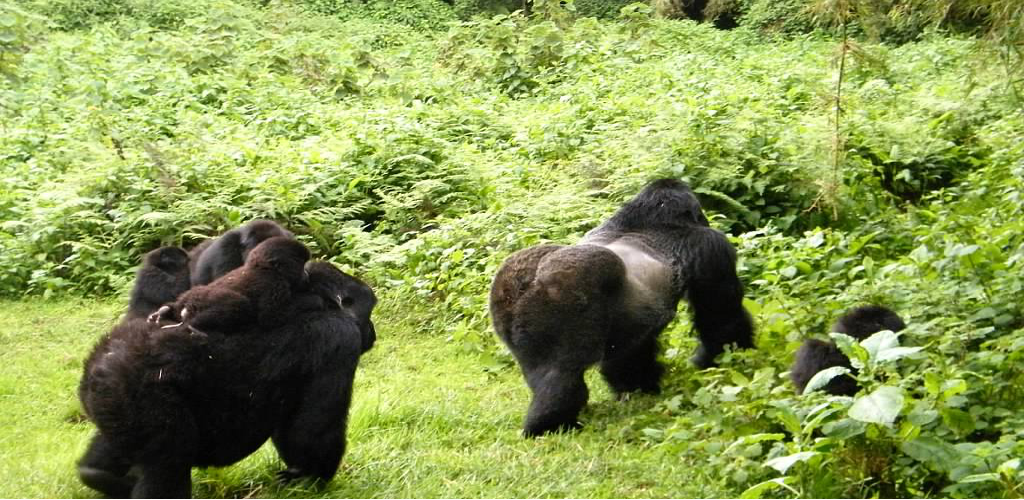 Luxury Gorilla Safari and Masai Mara - Kenya and Uganda Safari
Luxury Gorilla Safari and Masai Mara itinerary:
Day 1: Arrival in Entebbe
On your arrival Entebbe airport you will be met and taken to The Protea Marriott Hotel, or an equivalent property for your first night.
Overnight Protea Marriott Hotel Entebbe
Day 2: Take a scheduled flight to Southwest Uganda
Fly on a scheduled flight to Kihihi airstrip, upon arrival at Kihihi, you'll be met by your driver guide and driven to Trackers Safari Lodge, Bwindi Impenetrable Forest; approximately one hour's drive. There are a variety of optional activities that can be done this afternoon if time allows, these include: Community Village Walk, Waterfall walk.
Overnight Trackers Safari Lodge
Meal plan: Breakfast, lunch and dinner
Day 3: Gorilla Tracking – Bwindi Impenetrable Forest National Park
Following breakfast at the lodge, you will drive to the Park Headquarters to meet your guides and the other members of the group and begin your gorilla tracking experience. Experienced guides and trackers will accompany your party of eight if the group is full on an early morning gorilla trek into the dense rain forest on the mountain slopes
The journey, through dense foliage and up steep climbs, is abundantly rewarded with the lifetime experience of viewing mountain gorillas in their natural habitat.  You will have an opportunity to be within meters of these magnificent apes, sharing in their daily lives and experiencing their day-to-day activities.  Mountain gorillas are extremely rare with only an estimated 880 remaining in the wild.  This is an experience you won't soon forget!
Following the gorilla trek, return to the lodge and, if time allows, take a guided afternoon forest or community walk. Please note: tracking may be fairly strenuous with treks up to six hours or longer, at high altitudes, not uncommon.
Overnight Trackers Safari Lodge
Meal plan: Breakfast, lunch and dinner
Day 4: Fly to Entebbe to connect with flight to Nairobi
Take a scheduled flight from
Bwindi Forest (Kihihi)
to
Entebbe
to connect with your evening flight to
Nairobi
.
Overnight hotel in
Nairobi.
Meal plan: Breakfast
Day 5: Fly to Masai Mara
Take a morning flight from Wilson airport to Maasai Mara,to spend 2 nights at Kichwa Tembo
The Masai Mara is the jewel of Kenya's game parks, located in the northern section of the great Serengeti plains. The reserve is the home of the "Big Five" … elephant, lion, leopard, buffallo, rhino as well as cheetah, zebra, giraffe, wildebeest, hippo, impala, gazalle and numerous other including hundreds of species of birds.
Your accommodation for the next two nights will be at Kichwa Tembo Safari camp, one of the Mara's luxury tented camps, allowing you to experience nights "in the bush" with all comforts of home. Overlooking the endless game-filled plains of the Masai-Mara and shaded by dense forest canopy, this oasis of Hemingway-style tents nestles below the Oloololo Escarpment. Each luxurious tent affords sweeping views over the greatest grassland system on earth, still under the guardianship of the pastoral Ilkareskeshe Masai tride. Exciting game-drives and interpretive bush-walks with resident guides and naturalists reveal the wonders of the Mara.
After checking in and enjoying lunch you will have some time to relax and take a dip in the pool before again meeting up with your private guide and departing on an afternoon game in search of the big five.
Overnight Kichwa Tembo safari camp
Meal plan: Breakfast, lunch and dinner
Day 6: Masai Mara
This morning you will be awakened before dawn and after a cup of Tea or Coffee, you will set out at sunrise on an early morning game drive. The Mara is magical in the morning, the birds are singing, the morning air smells fresh and cool and the wildlife is just waking up to greet the day. Zebra's 'rolic greet each other, a pair of jackels prance through the grass in search of mice a rabbit, baboons chatter noisily and curious giraffe watch you as nibble on their breakfast of acacia leaves. You may even upon a loin family feeding on the last nights kill or a leopard snoozing in a tree.
After returning to the camp for buffet breakfast you will depart with your driver guide on a mid-morning game drive this time venturing deeper into the Mara. Don't forget to look for the "little five" -Thomson's gazelle, jackel, African hare, vervet monkey and banded mongoose. These little animals can be just as exciting and more fun to watch than the more popular larger animals.
You will return to your camp for lunch and after you will have sometime to relax at the pool or do some bird-watching from the verandah of your tent,before departing on the afternoon game drive. The plains are full of surprises - pride of lion with their playful cubs, families of Ostrich parading over the plains etc.
Overnight Kichwa Tembo safari camp
Meal plan: Breakfast, lunch and dinner
Day 7: Departure
Morning flight from
Masai Mara
to Wilson airport, later transfer to
Jomo Kenyatta airport
to connect with your flight out / back home.
Meal plan: Breakfast