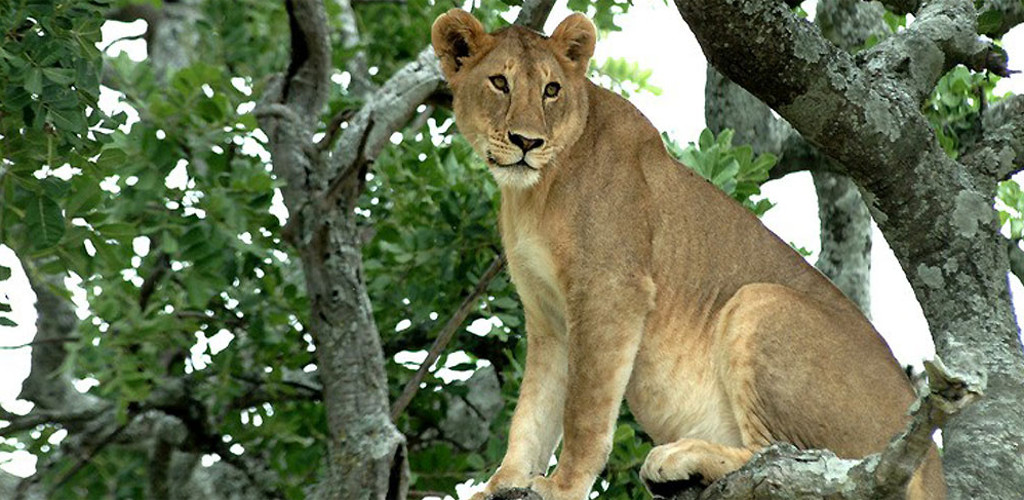 Luxury Uganda Gorilla and Masai Mara Safari
Luxury Uganda Gorilla and Masai Mara Safari itinerary:
Day 1: Arrival in Entebbe
On your arrival Entebbe airport you will be met and taken to The Protea Marriott Hotel, or an equivalent property for your first night.
Overnight Protea Marriott Hotel Entebbe
Day 2: Take a scheduled Flight from Entebbe to Kihihi near Bwindi Forest
Fly on a scheduled flight to Kihihi airstrip, upon arrival at Kihihi, you'll be met by your driver guide and driven to Tracker's Safari Lodge, Bwindi Impenetrable Forest; approximately one hour's drive. There are a variety of optional activities that can be done this afternoon if time allows, these include: Community Village Walk, Waterfall walk.
Overnight Trackers Safari Lodge
Meal plan: Breakfast, lunch and dinner
Day 3: Gorilla Tracking – Bwindi Impenetrable Forest National Park
Following breakfast at the lodge, you will drive to the Park Headquarters to meet your guides and the other members of the group and begin your gorilla tracking experience. Experienced guides and trackers will accompany your party of eight if the group is full on an early morning trek into the dense rain forest on the mountain slopes
The journey, through dense foliage and up steep climbs, is abundantly rewarded with the lifetime experience of viewing mountain gorillas in their natural habitat.  You will have an opportunity to be within meters of these magnificent apes, sharing in their daily lives and experiencing their day-to-day activities.  Mountain gorillas are extremely rare with only an estimated 880 remaining in the wild.  This is an experience you won't soon forget!
After the gorilla trek, return to the lodge and, if time allows, take a guided afternoon forest or community walk. Please note: tracking may be fairly strenuous with treks up to six hours or longer, at high altitudes, not uncommon.
Overnight Trackers Safari Lodge
Meal plan: Breakfast, lunch and dinner
Day 4: Drive to Queen Elizabeth Game Park
This morning depart Bwindi Impenetrable Forest National Park after having breakfast and drive to Ishasha in the southern part of Queen Elizabeth National Park.
Enjoy afternoon game drives in the Ishasha area, be on the look for herds of buffalo, elephant, Uganda kob and of course the famous tree-climbing lion typically found in the area.
Overnight at Ishasha Wilderness Camp
Meal plan: Breakfast, lunch and dinner
Day 5: Road transfer to Katara Lodge QENP
Morning game drive, return to the lodge for breakfast then drive the north of Queen Elizabeth National park to Katara lodge.
In the evening, proceed for a unique 2-hour boat cruise on the Kazinga Channel and into Lake Edward. The trip passes through possibly the highest hippo concentration in Africa and many mammals may be seen drinking at the water's edge. Keep an eye open for the enormous water monitor lizard, as well as crocodiles. The cruise offers an excellent platform for photography and game viewing. The banks of the lakes have abundant bird life.
Overnight Katara Lodge
Meal plan: Breakfast, lunch and dinner
Day 6: Explore the chimps and savannas of Queen Elizabeth
This morning you will have a chance to trek the chimpanzees at the Kyambura gorge. After the chimpanzee trek return to the lodge for lunch.
In the evening you have another chance to view Queen Elizabeth National Park's diverse eco-systems of grassy plains, tropical forest, rivers, swamps, lakes and volcanic craters, home to an incredible abundance of wildlife. Game drives in this park, with the massive Rwenzori Mountains as a backdrop, provide an excellent opportunity to see lion, leopard, giant forest hog, African buffalo, elephants, defassa waterbuck, Uganda kob, topi and bushbuck. Combined with the boat trip up the Kazinga Channel, these two game drives are memorable methods of discovering a vast array of wildlife.
Overnight Katara Lodge
Meal plan: Breakfast, lunch and dinner
Day 7: Transfer to  Semliki
After breakfast you will take a drive towards Semliki wildlife reserve. The scenic, winding road will lead you through green mountains with magnificent views at the River Semliki and Congo. In the evening you will go for nature walk through the Ituri Rainforest. Enjoy the peacefulness of the forest, look out for the rich birdlife at the swamp and boil an egg in the hot springs that have become an interesting natural attraction.
There are Chimps living close to elephants, lions and buffalos in addition to the western Uganda species. After dinner you will go for a night game drive.  
Dinner and overnight Semliki Safari Lodge
Meal plan: Breakfast, lunch and dinner
Day 8: Chimpanzee tracking
Early in the morning you will have breakfast and then move down into the verdant rainforest where you will track chimpanzees. These Chimpanzees are tracked by several researchers within Semliki early morning and in the evening, since they normally disappear in the course of the day. In addition there are numerous bird species that are living in this amazing forest. You will head back for lunch at the lodge and the opportunity to unwind by the pool and also enjoy the beautiful the Lodge. Late in the afternoon you'll enjoy a game drive, making a stopover to see beautiful African sun set disappear beyond the horizon.
Dinner and Overnight at Semliki Safari Lodge
Meal plan: Breakfast, lunch and dinner
Day 9: Take a scheduled Flight from Kasese to Murchison Falls
Depart Kasese airstrip on a scheduled flight to Bugungu airstrip where your personal driver guide will be waiting for you to drive you to Baker's Lodge.
Murchison Falls National Park, in the north-west of the country is home to elephant, buffalo, lion and leopard, as well as a healthy population of hippo and huge crocodiles on the River Nile.  The park is well known for its bird life – the Shoebill being a sought after rarity.  The 3 893 km2 Murchison Falls National Park forms the core of Uganda's largest protected area. Together with the adjoining Bungungu and Karumu wildlife reserves, it forms a vast wilderness covering 5 072 km2 and containing a wide variety of wildlife including big game, forest primates and 450 bird species. The mighty Nile, the longest river in the world, flows through the heart of the park for a distance of 120 km, on its 6 500 km journey from Lake Victoria to Egypt and the Mediterranean Sea.
The park's centerpiece is the explosive, 40 m high Murchison Falls where the Nile is forced through a 6 m gap in the Rift Valley escarpment.  The Falls separate two very different rivers. Upstream, the river races down a turbulent 80 km channel punctuated with rapids. Downstream, the Nile flows quietly towards Lake Albert which it enters through a large papyrus delta. It is this peaceful 40 km stretch of river which provides the park's prime wildlife spectacle and which our boats explore.
Overnight at Bakers Lodge
Meal plan: Breakfast, lunch and dinner
Day 10:Game Drive and Boat trip to Falls
You will have your breakfast at the lodge, then drive with your guide and safari vehicle to the northern sector of Murchison Falls National Park, where most of the wildlife including lions, elephants, buffalo, giraffes, oribi, hartebeest, and countless reptiles and birds, including one of the park's more difficult species to spot, the rare shoebill stork are found.  Crocodiles are also plentiful in this park.
In the afternoon, you will take a three hour boat cruise from park headquarters to the base of Murchison Falls.  This is an activity not to be missed as it is one of this park's most popular attraction. You will observe the spectacular sight of the force of the mighty Nile River narrowing to flow through a seven meter gap, cascading down a forty meter cliff to the vast gorge below.  The power of the falls and the scenic views from their base are breath taking. You will see large resident populations of hippos float in the water along the way, groups of crocodiles bask on the shore, and herds of elephant, buffalos and other antelope can be seen moving along the riverbanks searching for food. 
The river also offers a spectacular opportunity for bird watchers, with a wide range of water birds and vibrant bee eaters nesting in the cliffs along the river's banks.
Overnight at Bakers Lodge
Meal plan: Breakfast, lunch and dinner
Day 11: Boat trip to the Delta and another game drive
Embark on a half day boat trip into the Victoria Nile Delta, a 20 km cruise downstream from the park's headquarters. Home to a wide variety of wetland and papyrus endemic bird species, including the elusive shoebill stork, this three to five hour cruise offers a unique opportunity to spot rarely found birds and animals such as hippo, elephants and large crocodiles. Travelling through the centre of Murchison Falls National Park, guests can experience the constantly changing scenery of the Nile River as it winds its way to Lake Albert.
In the afternoon we have another chance to explore the wilderness in our safari vehicle on a game drive.
Overnight at Bakers Lodge
Meal plan: Breakfast, lunch and dinner
Day 12: Fly from Murchison Falls to Entebbe to catch a flight to Nairobi
Take a scheduled flight from Murchison Falls to Entebbe to connect with your evening flight to Nairobi.
Overnight hotel in Nairobi.
Day 13: Fly to Masai Mara
Take a morning flight from Wilson airport to Maasai Mara,to spend 2 nights at Kichwa Tembo
The Masai Mara is the jewel of Kenya's game parks, located in the northern section of the great Serengeti plains. The reserve is the home of the "Big Five" … elephant, lion, leopard, buffallo, rhino as well as cheetah, zebra, giraffe, wildebeest, hippo, impala, gazalle and numerous other including hundreds of species of birds.
Your accommodation for the next two nights will be at Kichwa Tembo Safari camp, one of the Mara's luxury tented camps, allowing you to experience nights "in the bush" with all comforts of home. Overlooking the endless game-filled plains of the Masai-Mara and shaded by dense forest canopy, this oasis of Hemingway-style tents nestles below the Oloololo Escarpment. Each luxurious tent affords sweeping views over the greatest grassland system on earth, still under the guardianship of the pastoral Ilkareskeshe Maasai tribe. Exciting game-drives and interpretive bush-walks with resident guides and naturalists reveal the wonders of the Mara.
After checking in and enjoying lunch you will have some time to relax and take a dip in the pool before again meeting up with your private guide and departing on an afternoon game in search of the big five.
Overnight Kichwa Tembo safari camp
Meal plan: Breakfast, lunch and dinner
Day 14: Masai Mara
This morning you will be awakened before dawn and after a cup of Tea or Coffee, you will set out at sunrise on an early morning game drive. The Mara is magical in the morning, the birds are singing, the morning air smells fresh and cool and the wildlife is just waking up to greet the day. Zebra's 'rolic greet each other, a pair of jackels prance through the grass in search of mice a rabbit, baboons chatter noisily and curious giraffe watch you as nibble on their breakfast of acacia leaves. You may even upon a loin family feeding on the last nights kill or a leopard snoozing in a tree.
After returning to the camp for buffet breakfast you will depart with your driver guide on a mid-morning game drive this time venturing deeper into the Mara. Don't forget to look for the "little five" -Thomson's gazelle, jackel, African hare, vervet monkey and banded mongoose. These little animals can be just as exciting and more fun to watch than the more popular larger animals.
You will return to your camp for lunch and after you will have sometime to relax at the pool or do some bird-watching from the verandah of your tent,before departing on the afternoon game drive. The plains are full of surprises - pride of lion with their playful cubs, families of Ostrich parading over the plains etc.
Overnight Kichwa Tembo safari camp
Meal plan: Breakfast, lunch and dinner
Day 15: Departure
Morning flight from Maasai Mara to Wilson airport, later transfer to Jomo Kenyatta airport to connect with your flight out / back home.