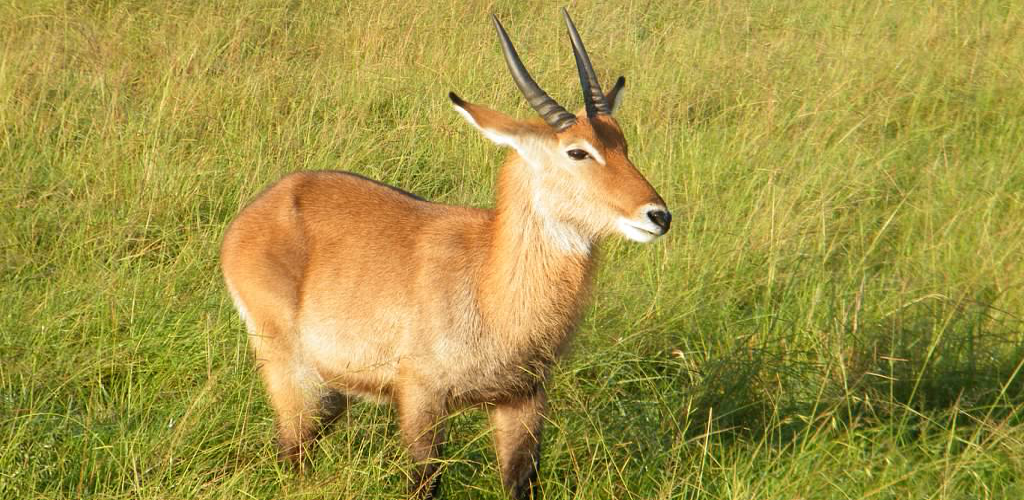 Kenya and Uganda Safari - 15 Days
Kenya and Uganda Safari itinerary:
Day 01: Arrival in Nairobi
Arrive JKA, Pick up and transfer to Southern sun Mayfair hotel in
Nairobi
for overnight.  
Day 02: Transfer to Amboseli ((3-4 hour drive)
After breakfast, drive to
Amboseli
arriving in time for lunch, pm game, dinner and overnight Sopa Amboseli lodge.
Meal Plan: Breakfast, Lunch and Dinner
Day 03: Naivasha (5hrs drive)
Early breakfast, depart
Amboseli
latest 0700hrs, drive to
Nairobi
, proceed to
Naivasha
(1hr drive) arriving in time for check in at Sopa lodge, lunch, afternoon boat ride to crescent island, back to the lodge for dinner and overnight.
Meal Plan: Breakfast, Lunch and Dinner
Day 04: Masai Mara ( 4 hours drive time )
Depart after breakfast; proceed to
Maasai mara
, arriving in time for lunch at Mara Sopa Lodge, pm game drive, dinner and overnight Mara Sopa lodge
 Meal Plan: Breakfast, Lunch and Dinner                 
 
Day 05: Game drives
After breakfast at the lodge, depart with packed lunch for whole day game viewing, visit the hippo pool, Wildebeest River crossing (July – Sept) and back to the lodge for dinner and overnight Mara Sopa lodge
Meal Plan: Breakfast, Lunch and Dinner
Day 06: Nairobi / Entebbe ( 4- 5 hour drive )
Depart for Nairobi after breakfast, drop off at JKIA for the flight to Entebbe.  Upon arrival in Entebbe you will be met by your guide and transfer to your accommodation in Entebbe. You will be briefed on your Safari later in the day.
Meals plan: Breakfast
Day 07: Drive to Kibale Forest (6 -7 Hours drive)
After breakfast, you will embark on a long drive to the western side of the country, to
Kibale Forest National Park
.  This is a beautiful, forested area, which links into the
Queen Elizabeth National Park
eco system. You will spend one night here, allowing time in the morning to
trek chimpanzees
.  You will arrive for a late lunch. Afternoon
Bigodi wetlands
visit.
Overnight
Chimpanzee Forest guesthouse
/
Kibale Forest Camp
Meal Plan: Breakfast, Lunch and Dinner
Day 08: Chimpanzee Trekking
Following an early breakfast, you will set out for chimp tracking close to Kanyanchu. This may take half of the day. You will several primates in this region such as L'Hoest monkeys, baboons, blue monkeys, white & black colobus monkeys, the grey checked mangabey, pottos and red colobus. Other animals include forest elephants which are a common type, large forest hogs as well as several tree species.
Overnight Chimpanzee Forest guesthouse/ Kibale Forest Camp
Meal Plan: Breakfast, Lunch and Dinner
Day 09: Queen Elizabeth NP (Approximately 3 - 4 hours drive)
After an early morning breakfast, you will say goodbye to Kibale and return to Fort Portal. This rural Ugandan town is locally famous for its weaving and basketry, and you stop briefly to examine some of this local art. Leaving Fort Portal town, you turn south and early this afternoon enter Queen Elizabeth National Park, which is dominated on its northern border by the snow-capped 16,000-foot Rwenzori Mountains-the famed "Mountains of the Moon".
This 767-square-mile conservation area is bordered on the North East by Lake George and on the South West by Lake Edward; its western border adjoins the Zaire Parc Du Virunga. You will expect to see teeming herds of impala-like Uganda Kob, as well as topi, elephant and lion, giant forest hog, Cape buffalo. There are also several soda lakes filling ancient volcanic calderas where flamingos reside seasonally.
Meal Plan: Breakfast, Lunch and Dinner
Day 10: Game drives / Launch cruise on Kazinga Channel
Wake up early and go for a game drive in the Kasenyi area, return to the lodge for lunch.
In the afternoon there will be a launch trip on the Kazinga Channel. This fresh water system, joining Lake Edward and Lake George, boasts of the highest concentration of Nile Hippos in the world.  In addition to these semi-aquatic mammals, the launch affords unique opportunities to view other mammals, and birds as they come to the water's edge to drink or bathe.   Expect to see Waterbuck, Bushbuck, Cape buffalo, Hartebeest, Giant Forest Hog, Warthog, Elephant, and potentially Leopard and Lion. The scenic beauty of the park is a perfect backdrop for the wildlife drama that takes place before you
Overnight Marafiki Safari Lodge /
Bush Lodge
/Twin Lakes Safari Lodge
Meal Plan: Breakfast, Lunch and Dinner
Day 11: Drive to Bwindi Impenetrable Forest (Approximately 5 hours drive)
You are up early this morning for a final game drive in
Queen Elizabeth National Park,
hoping to catch a glimpse of the more elusive wildlife of this lovely sanctuary. You then drive through Ishasha area of the park hoping to see the famous tree climbing lions (weather permitting) and then through the scenic area known as the "Switzerland" of East Africa, to the Bwindi  Impenetrable National Park for your gorilla treks.
Meal Plan: Breakfast, Lunch and Dinner
Day 12: Gorilla Trekking
This day will be for gorilla tracking. You will rise early and after breakfast, be driven to a point in the park where your hike will begin. Well- trained guides lead you to a point where the gorillas were encountered the day before. The hike duration is determined by the gorillas whose continuous search for food requires a nomadic lifestyle. Trekking gorillas can take from 1-8 hours at altitudes in excess of 7,500ft and over rough and steep terrain.
Although the hike is physically demanding, the beauty of the forest and its inhabitants make your experience extremely interesting. Upon encountering the gorillas, your fatigue is quickly forgotten. The gorillas are not tame, but they have been scientifically habituated to accept the presence of quiet and non-threatening observers.
 
Each strictly regulated 60- minutes visit passes all too quickly, and you must depart, leaving the gorillas to their fragile existence. You will take a packed lunch and water for your meal and picnic in the forest. Porters are available at the park headquarters to help you carry.
Meal Plan: Breakfast, Lunch and Dinner
Day 13: Batwa Cultural Experience
The Batwa cultural experience was created by the displaced Batwa pygmies to educate their children and to share their amazing heritage and traditions with the world. A day spent with the Batwa gives you the opportunity to enjoy a hike in the forest with the people of the forest. You will have a Batwa guide and he will provide you with the chance to see the forest and its habitants through their eyes.
You will also have a chance to be introduced to how they lived and hunted in the traditional manner. Enjoy trying out your hunting techniques as the Batwa teach you how to shoot with a bow and arrow.
Visit a traditional Batwa homestead and learn from the women how to prepare, cook and serve a meal. You will also have the opportunity to sample the traditional dishes if you so wish and talk to a medicine men and learn about the medicinal properties of the forest floor, hear ancient legends and traditional songs.
Overnight  Mutanda Lake Resort / Engagi Lodge
Meal Plan: Breakfast, Lunch and Dinner
Day 14: Lake Mburo National Park
Following breakfast proceed to Lake Mburo national Park, home to the impalas which are small antelopes mainly concentrated around Lake Mburo of all the national Parks in Uganda. Along the way you will be able to see the spectacular Kigezi highlands plus some other uncultivated scenery and the long-horned Ankole cow.
On arrival in the park, you will have a game drive to see some other wildlife in Uganda besides the gorillas you saw in Bwindi and among these will be: zebras, warthogs, buffaloes, klipspringers, elands, oribi as well as waterbucks and now giraffes.
Overnight Mantana Tented Camp /Rwakobo Rock lodge/Arcadia Cottages
Meal Plan: Breakfast, Lunch and Dinner
Day 15: Lake Mburo/Departure (Approximately 5 hours drive)
View game as you leave the camp for Kampala, pass through the town of Masaka near the shores of Lake Victoria, then continue through huge papyrus swamps, fragmented rainforest, with a stop at the equator and Mpigi Royal drum makers and witness how drums have been made in Uganda for centuries. Long before the coming of the Europeans, the Buganda people had a highly structured society and drums were used extensively for long distance and rapid communications.  Continue on the Entebbe International airport to connect with your international flight out.