Mahale Mountains National Park
Mahale Mountains National Park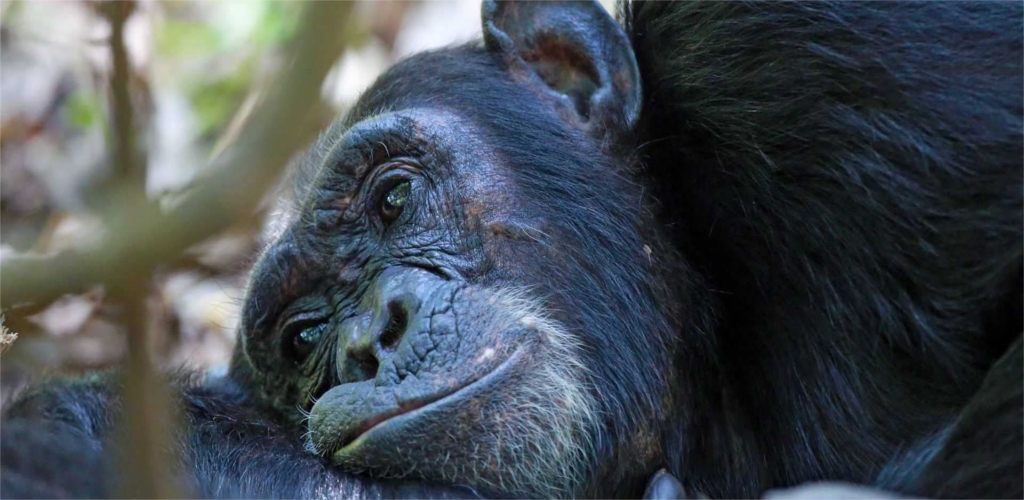 Mahale Mountains National Park
Mahale Mountains National Park is home to some of the Africa's last remaining wild chimpanzees, a population of roughly 900, they are habituated to human visitors by a Japanese research project founded in the 1960s.
Mahale is located in the Western Tanzania to the South of Kigoma town, it is bordering Lake Tanganyika-the World's longest, second deepest and least polluted freshwater lake-harbouring an estimated 1000 fish species.
Best time to visit the Mahale park
The dry season (May -October) is the best period. During this period, chimpanzees are likely to be seen in big groups, the sunshine illuminates the fish in the Lake and the beach is an inviting place to relax. However, Mahale Mountains National Park is accessible all year round. A visit in the rainy season can also be a memorable experience, made remarkable by views of the neighbouring country DR Congo across the water and by incredible lightning storms that light up the lake at night.
What to do in and around Mahale Mountains:
Chimp tracking (allow two days)
Hiking to the Park's highest point "Nkungwe" (8,069ft) held sacred by the local Tongwe people.
Camping safaris
Snorkeling
Sports fishing and many more water sports activities
Access to Mahale Park
Mahale is accessible by air, road and boat. There are several flights, car and boat options to suit most travelers and chimps lovers:
However it is also possible for visitors to arrange their own charter flights. Tanzania has a large number of charter flight companies such as Air Excel, Northern Air and Regional Air to mention a few. Private charters can be arranged from major cities of Arusha, Kilimanjaro, Dar es Salaam, Mwanza or Zanzibar.
The airstrip at Mahale is suitable for light aircraft only with the capacity of up to 12 passengers.
MAHALE PARK REGULATIONS
Mahale Mountains National Park is home to one of Africa's most studied chimpanzee populations. The support that visitors give through payment of park entrance fees provides the Park with the means to safeguard and protect this unique population of chimpanzees and the beautiful forest that they inhabit.
Park rules and regulations
Keep to the authorized trails.
Do not disturb wild animals in any way. Do not make noise.
Be considerate to fellow visitors – do not disturb them or the animals they are watching.
Do not take any pets or guns into the park.
Do not uproot, pick, cut or damage any plant or be in possession of any part of a plant indigenous to the park.
Do not light any fire or discard any burning object.
Do not discard any litter.
Between 7.00p.m and 6.00a.m remain in the immediate vicinity of designated accommodation facilities (tented camps, tourist bandas, rest house or campsites).
A permit is valid for single entry within 24 hours only.
Chimp Viewing Regulations in Mahale
Maintain a distance of at least 10m from the chimps at all times. This minimizes the risk of you transmitting bacteria and viruses to them.
Always wear a mask (provided by your guide) over your nose and mouth when you are close to chimps.
DO NOT eat or drink while you are near the chimps - move at least 250m away.
DO NOT leave personal belongings on the ground or where they are accessible to the chimps. They are curious animals and your belongings can transmit disease. If you need help carrying bags, your guide will be happy to assist you.
DO NOT leave any rubbish behind. It can be harmful to all kinds of wildlife and it can transmit diseases to the chimps.
If you feel the urge to cough or sneeze when you are near the chimps, please cover your nose and mouth to reduce the distribution of germs.
Try not to go to the toilet in the forest. If it is unavoidable, move at least 250m from the chimps and ask your guide to dig a deep hole.
It is not permitted to visit the chimps if you are sick or have infectious disease. Please be responsible and tell your camp managers if you don't feel well. You are risking the chimps' health by visiting them while sick. The manager will decide the best way.
No person under the age of 12 is permitted to visit the chimps. This is for their own safety and because young people are more likely to transmit infectious disease.
No more than 6 visitors (plus one guide) are permitted close to the chimps at any one time. If another group is with the chimps when you arrive, please wait at a spot chosen by your guide, at least 250m away from the animals.
Maximum viewing time is one hour. If the chimps are moving and viewing is interrupted, your time will be paused until they have been relocated, but tracking is not permitted for longer than 3hours after the initial chimp sighting, even if the one hour total has not been reached. This is to minimize disturbance to the animals and to the forest.
GENERAL SAFETY RULES
Mahale's chimps have been studied and habituated for more than 40 years and are well accustomed to people. Nevertheless, they are wild animals and it is important that you avoid doing anything that may antagonize them or that they may see as a challenge or a threat.
When near the chimps, please remember to keep your voices low. This will also help you to observe the other wonderful and varied wildlife of the Mahale forest.
Do not point at the chimps or make any sudden movements.
Avoid direct eye contact with them because they may perceive this as aggressive or threatening behavior.
Do not use perfume, smoke or spit.
When near the Chimps: Stay in a tight group, try to sit or squat rather than standing, as this minimizes disturbance. Also be sure that your group does not completely surround the chimps.
In the unlikely event that a chimp charges towards you, move to the nearest tree, stand up and hold on tightly to the trunk. Above all, don't panic or run, adhere to your guide's instructions.
If the chimpanzees move closer to you than permitted distance (10 meters), don't make any sudden movements to increase the distance. Simply move back slowly away from them.
Camera flashes must be switched off. Flash photography can disturb and antagonize the chimps.